Hyatt Regency Cairo West is now classified as a 5-star hotel – HC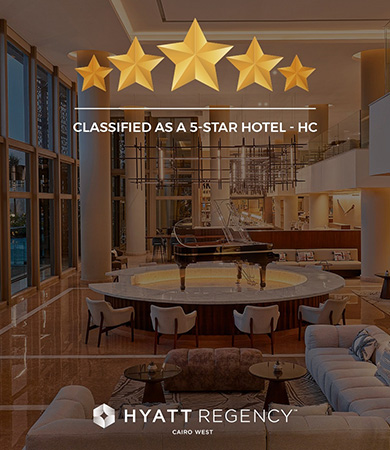 CAIRO (April 20th, 2022) – Just two months from its grand opening, Hyatt Regency Cairo West is now one of the very first hotels in Cairo to be classified as a 5-star hotel – HC (Hospitality Criteria) as per the hospitality criteria announced by Egypt's Ministry of Tourism and Antiquities for Egypt hotels.
The new (Hospitality Criteria) was announced in September 2019 during a press conference by Egypt's former Minister of Tourism and antiquities, Rania al-Mashat, alongside the World Tourism Organization and the Egyptian Hotel Association, with a vision to increase the competitiveness of Egypt's tourism sector and ensure hotels are in line with the international standards.
Hyatt Regency Cairo West has achieved the highly granted criteria upon its high-quality amenities, safety measures, hygiene standards and top guest reviews from both repeaters and first-timers, proving its commitment in setting the hospitality bar very high in a short period of time to deliver the best guest experience.
Cairo's first ultra-modern, urban hotel in West of Cairo has also been a beacon of various awards and recognitions by some of the world's most prestigious organizations and has been ranked "Number 1 in Giza destination" out of 131 hotels by TripAdvisor only after 3 months from its soft opening, and "Traveler Review Awards 2022" by Booking.com. The hotel continues to strive for service excellency by bringing new concepts to the hospitality world.